Aceretech Recycled Plastic Granulator Line, Waste Plastic Recycling Machine, Plastic Pelletizer Machine
The acs series compacting and pelletizing system combines function of crushing, compacting, plasticization and pelletizing to one step.applied in the plastics recycling and pelletizing process.
ACS system is a reliable and efficiency solution for plastics films, raffias, filaments, bags, woven bags and foaming materials re-pelletizing.
Final productions produced by acs system are in the form of pellets/ granules, can directly put into the production line for film blowing, pipe extrusion and plastics injection, etc.
HDPE, LDPE, PP, BOPP, CPP, OPP, PA, PC, PS, PU, ABS

Belt Conveyor, Cutting Compactor, Single Screw Extruder, Filtration, Pelletizer, Water Cooling Device, Dehydration Section,

Conveyor Fan, Product Silo.

Belt Conveyor (Standard), Roll Hauling off device (Optional)

38CrMoAlA (SACM-645), Bimetal (Optional)

31/1, 32/1, 34/1, 36/1 (According to the characteristics of recycling)

Ceramic heater or Far-infrared heater

Air cooling of fans through blowers

Two Double-zone vacuum degassing system (Standard)

Water-ring pelletizing/ water-strands pelletizing/ Under-water pelletizing

According to the Voltage of the Customer's Location

Metal detector, Roll hualing off device, Masterbatch and additives feeder

13 months from the date of bill of lading

project design, factory construction, installation and recommendations, commissioning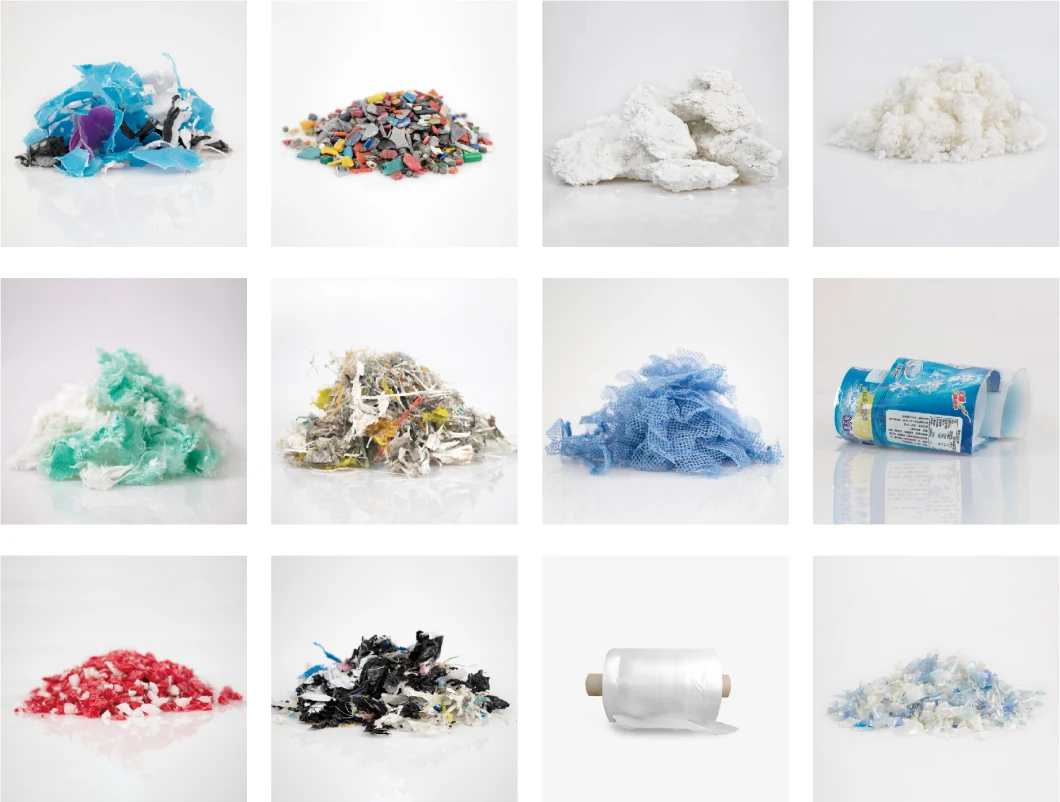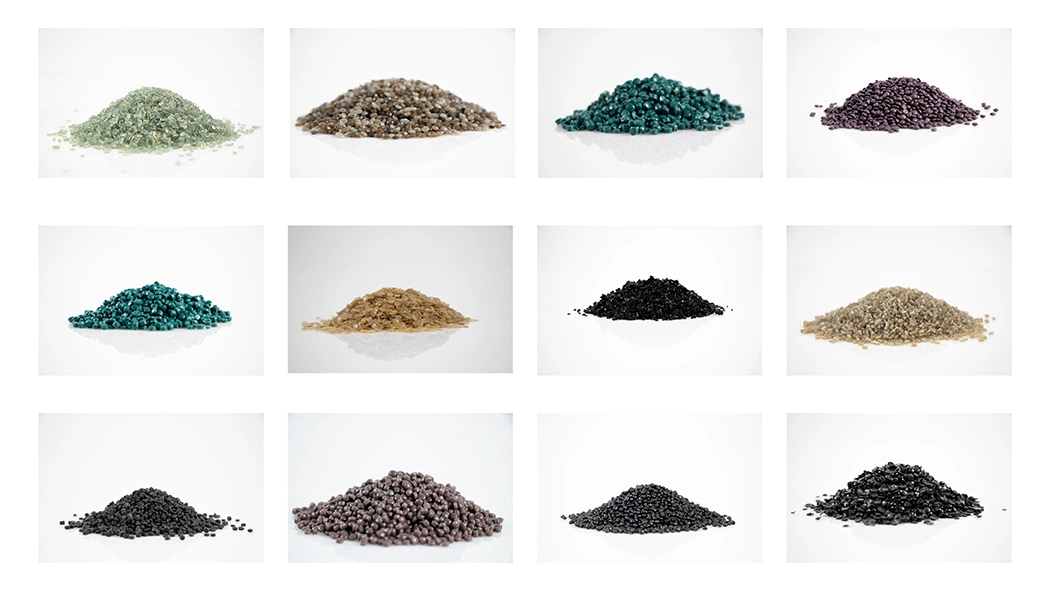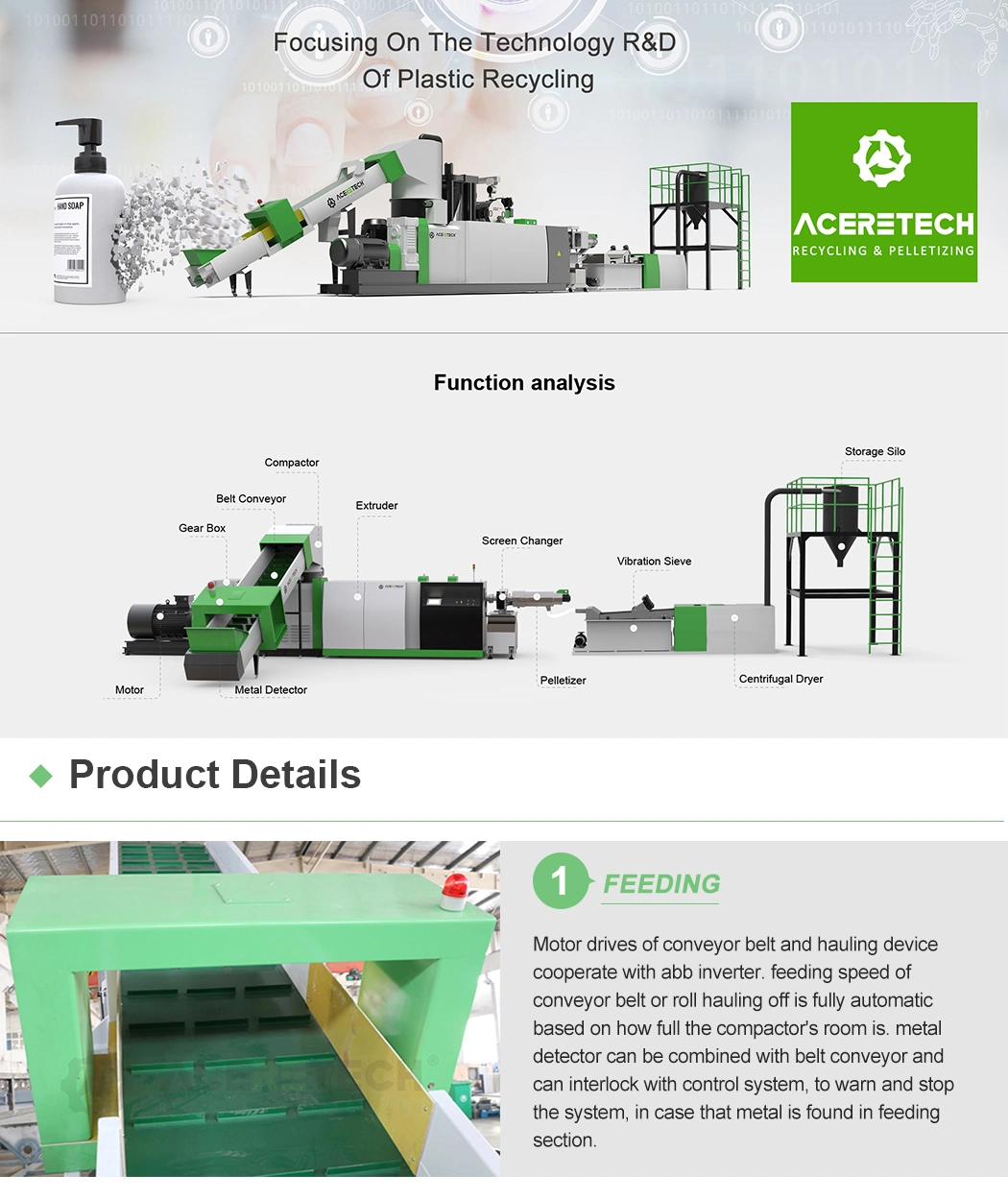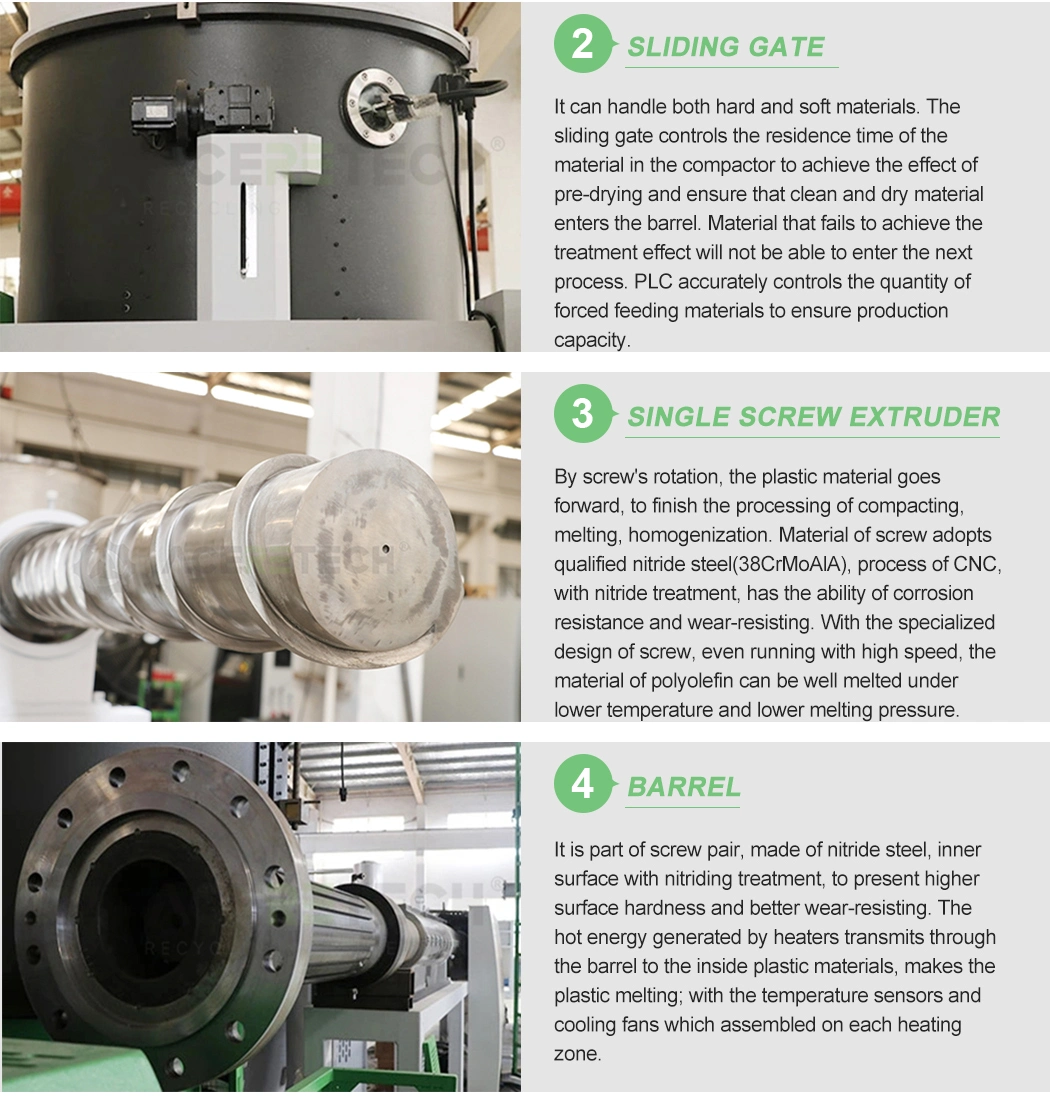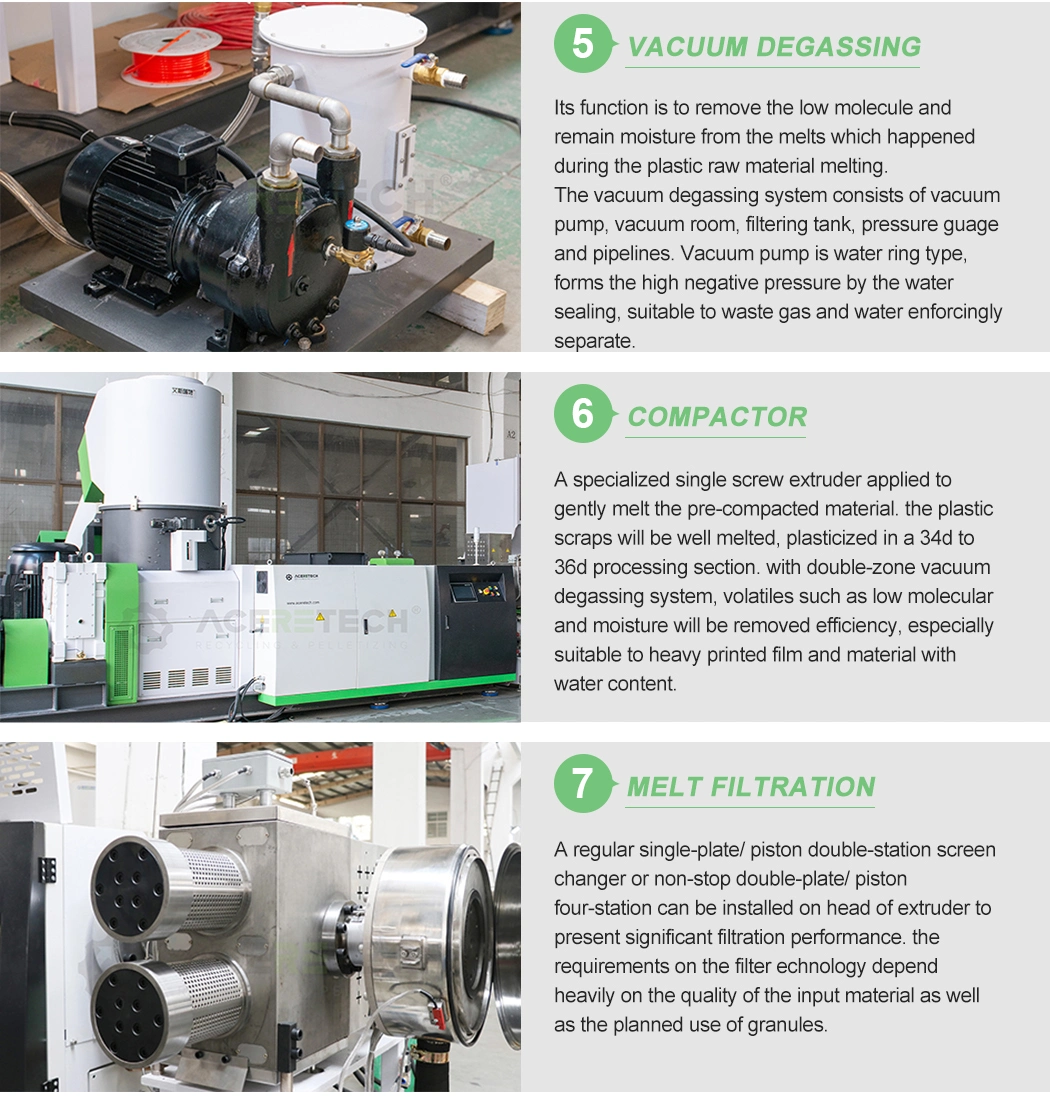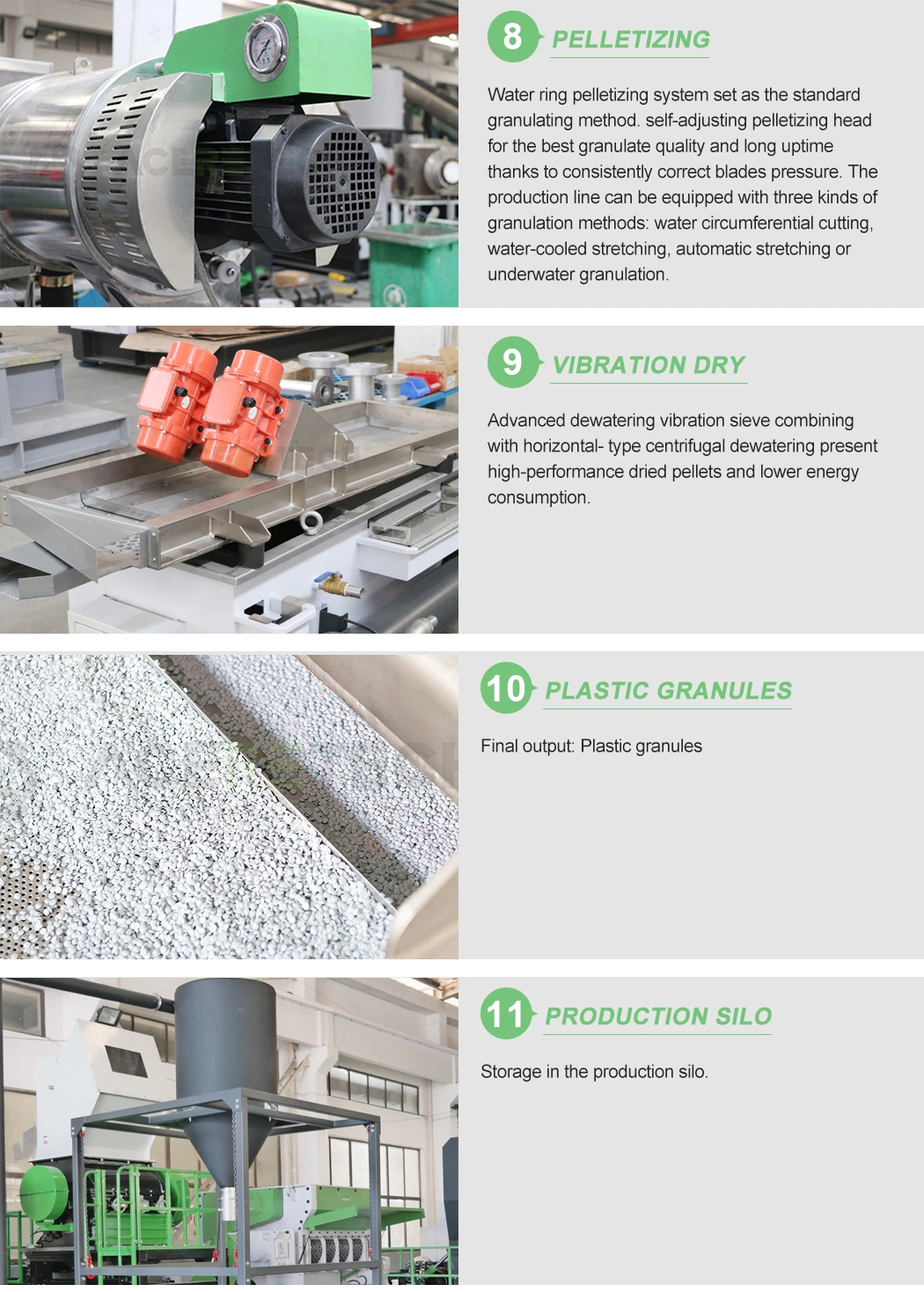 IF YOU WOULD LIKE TO KNOW MORE ABOUT US, PLEASE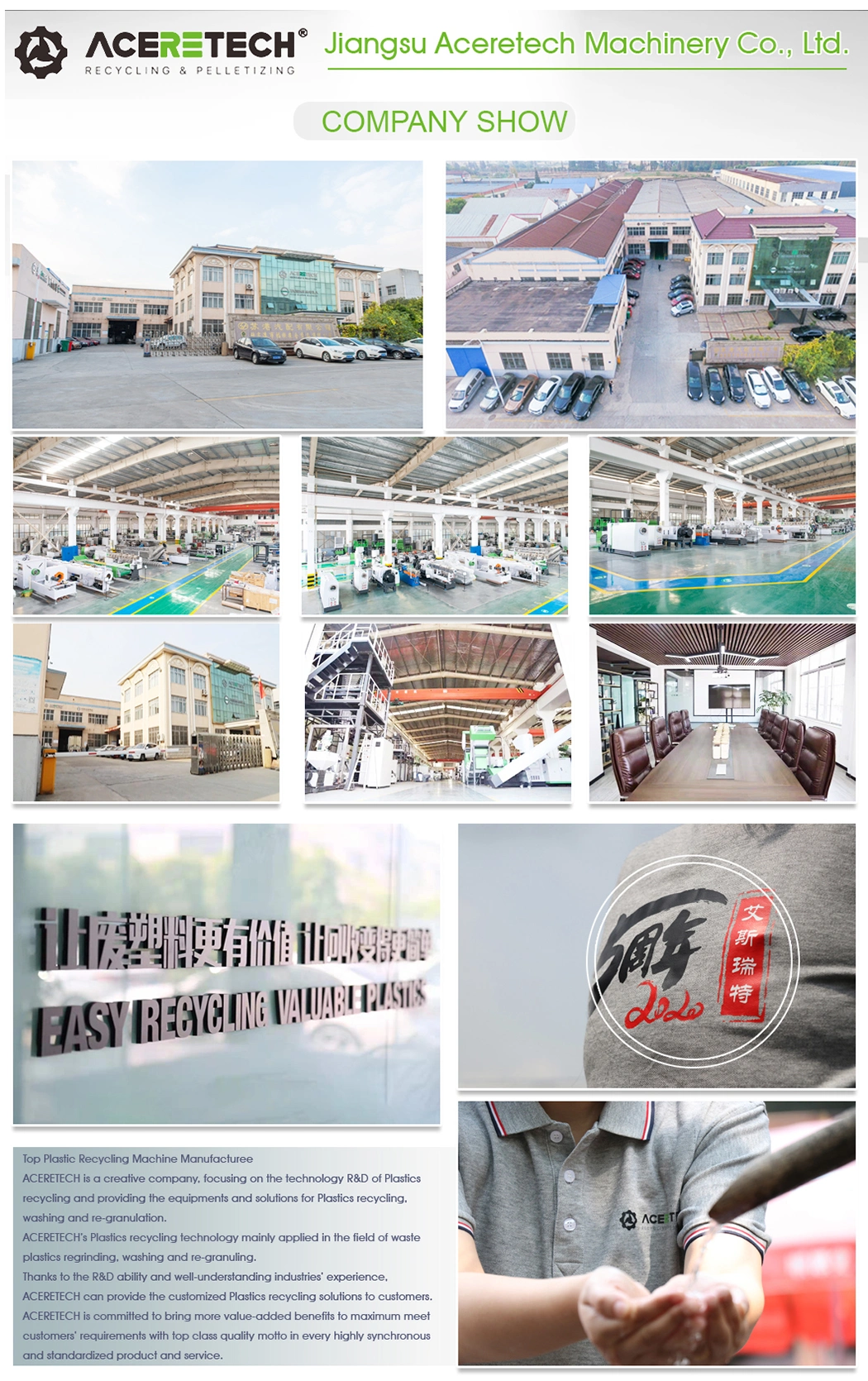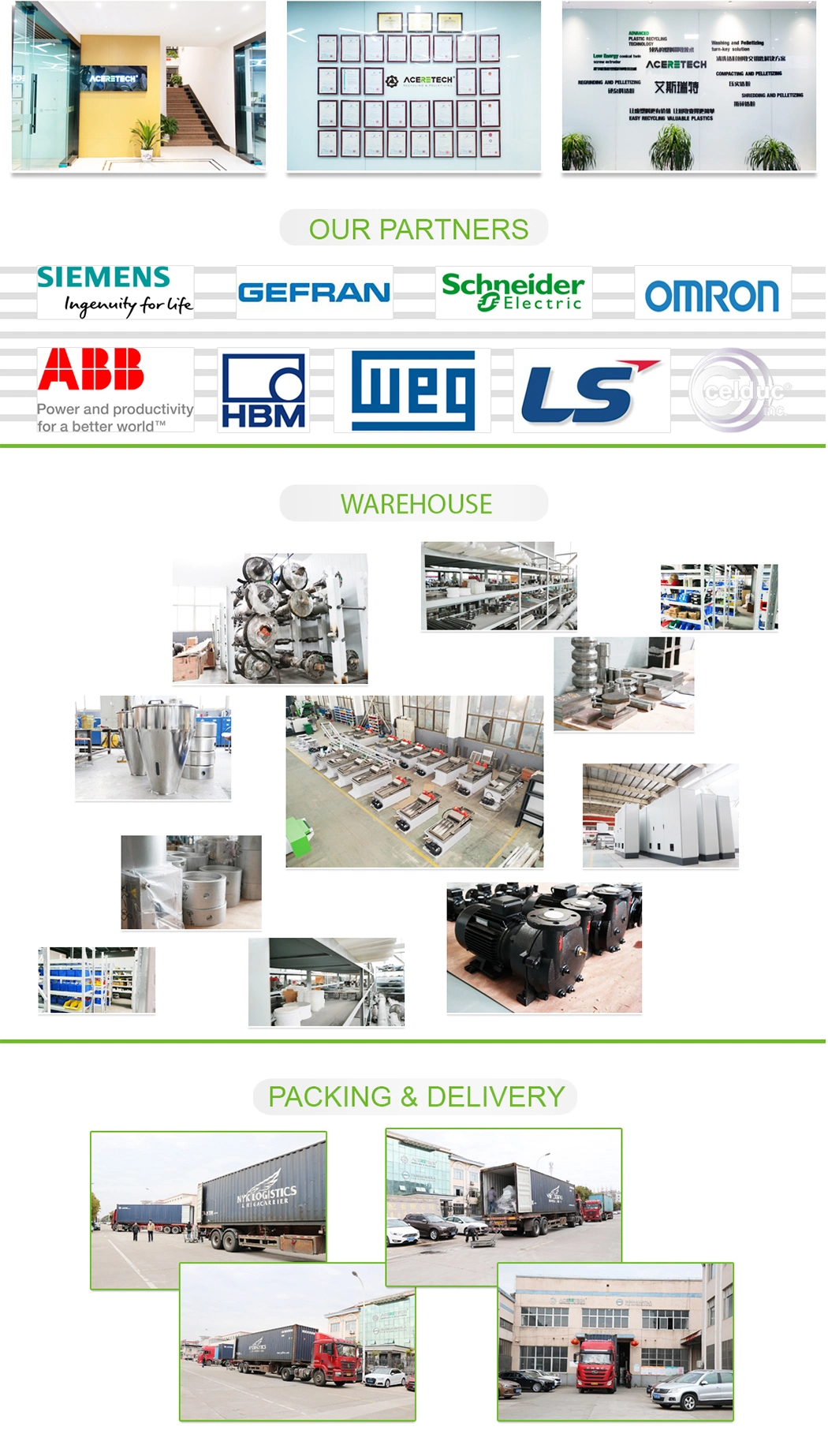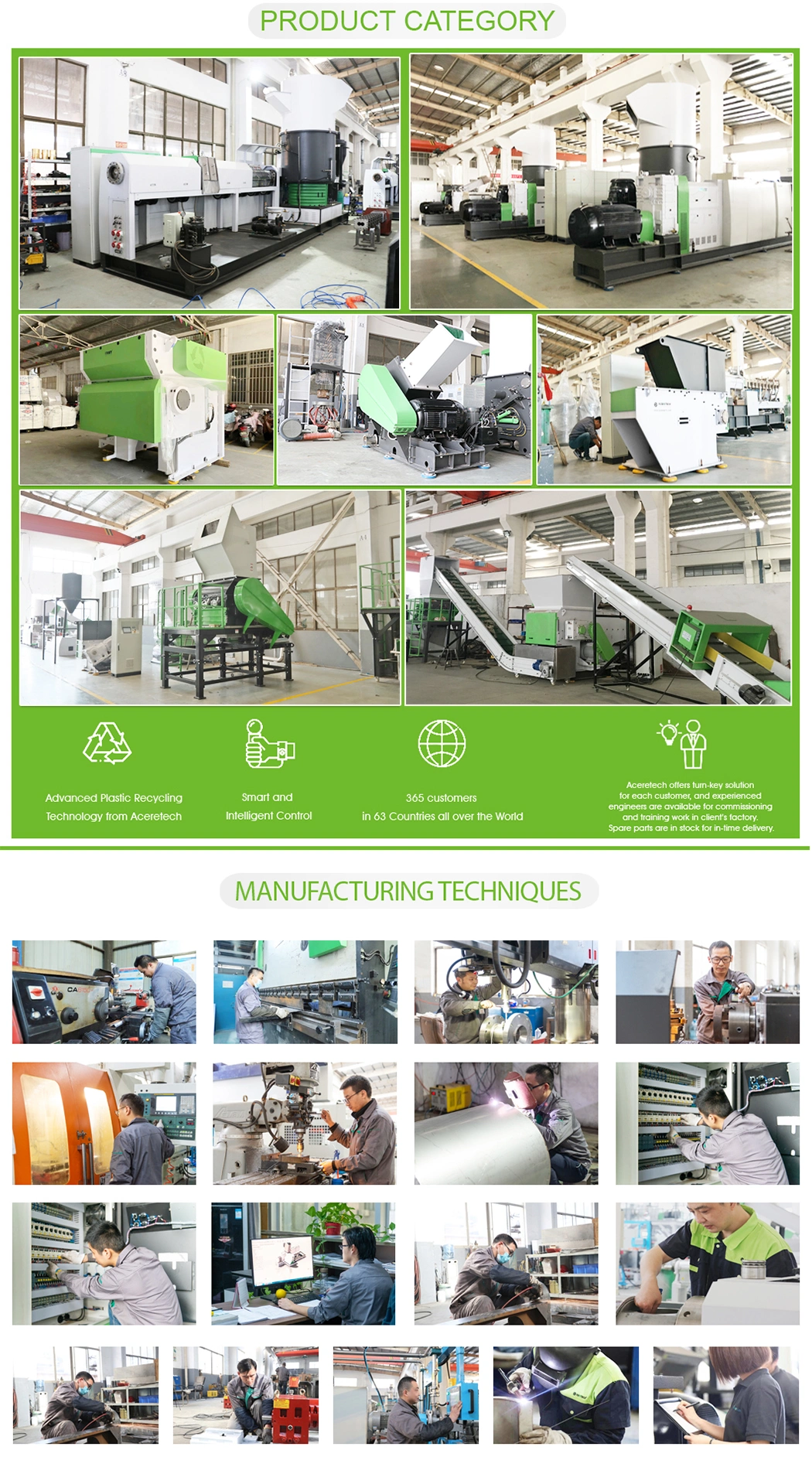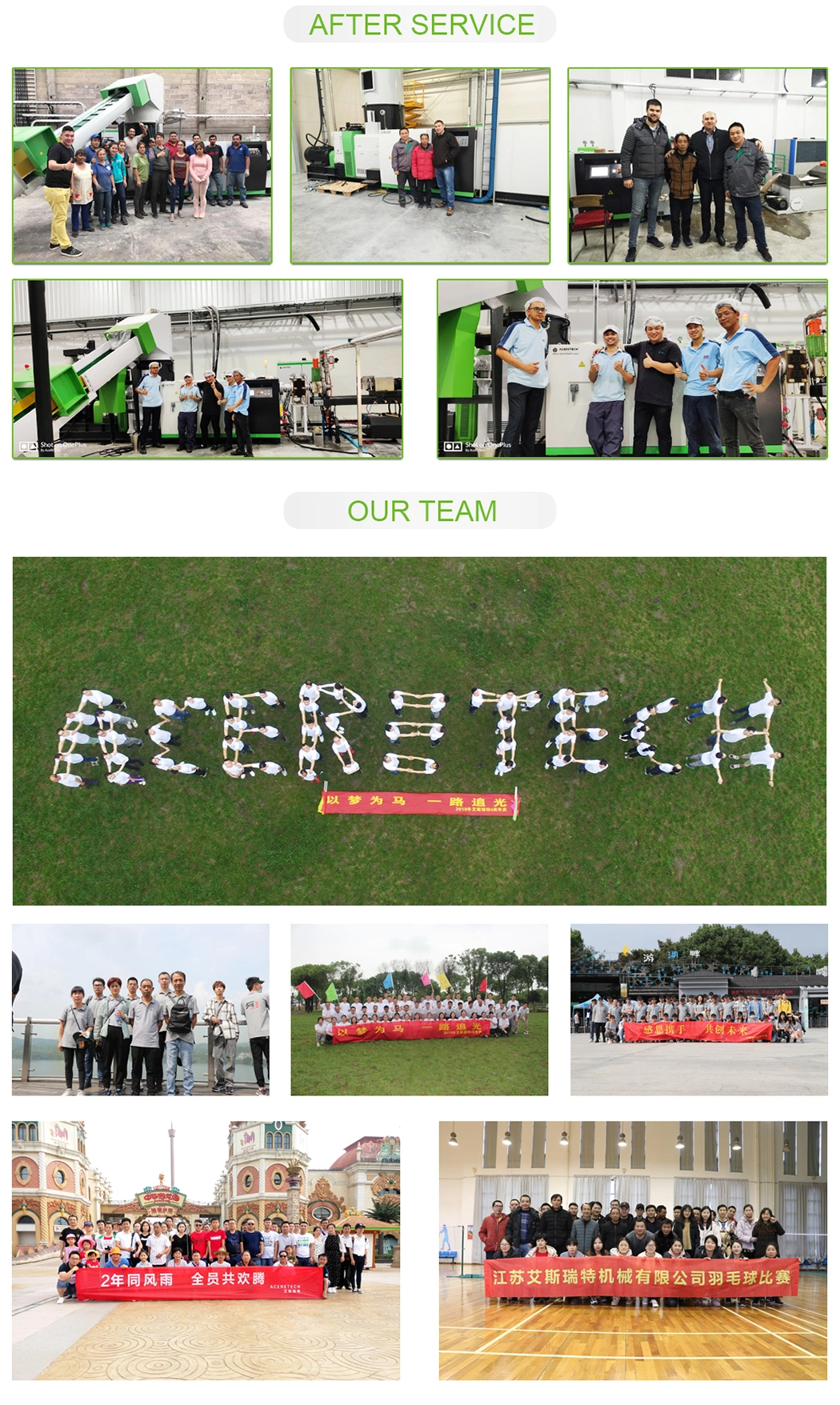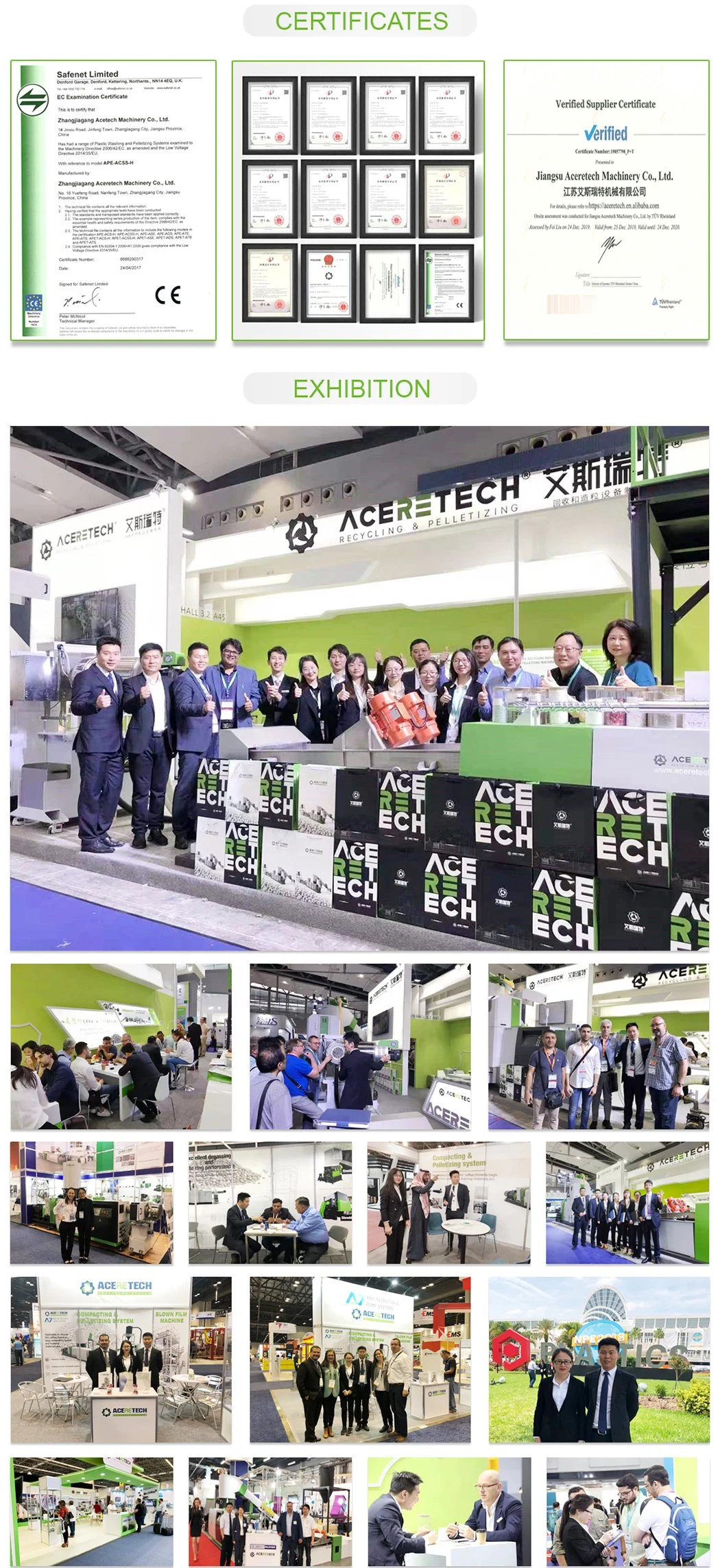 YOU ARE WELCOME TO OUR FACTORY AT ANY TIME
* ACERETECH is original manufacturer.
* If you interested in our products and we can fulfill your request , you may pay a visit to ACERETECH Factory.
* The meaning of visiting supplier, since seeing is believing, ACERETECH Machinery with own manufacture and developed& research team, we can send you engineers and make sure the high efficiency after-sales service.
SEE ACERETECH MACHINE HOW TO ENSURE THE QUALITY
* In order to ensure the accuracy of each part, we are equipped with a variety of professional processing equipment and we have accumulated professional processing methods over the past years.
* Each component before assembly needs strict control by inspecting personnel.
* Each assembly is in charge by a master who has working experience for more than 15 years
* After all the equipment are completed, we will connect all the machines and run the full production line for at least 12 hours to ensure the stable running in customers' factory

THE AFTER-SALE SERVICE OF ACERETECH MACHINERY
* After finishing the production, we will debug the production line, take photos, videos and send them to customers via mail or instant tools.
* After the commissioning, we will package the equipment by the standard export package for shipment.
* According to the customer's request, we can arrange our engineers to customers' factories to do the installation and training.
* Engineers, sales managers, and after-sales service managers will form an after-sales team, online and offline, to follow the customers' project.

IF YOU WOULD LIKE TO KNOW MORE ABOUT US, PLEASE