3E MACHINERY's
PE/PP Film Recycling Line is designed especially for the recycling of agricultural PE/PP films sticking lots of soil and dirty, the recycling capacity is also as high as 300-2000kg/h, this film recycling line is very useful for crushing, cleaning, dissection, drying and packing of waste PE/PP films, finally those waste PE/PP films become renewable and reusing materials.

3E MACHINERY Provide a wide range of standard and bespoke plastic crushing and washing systems to meet the ever changing and demanding requirements of a modern recycling environment. The systems are capable of processing a wide range of plastic materials with varying levels of contamination including extremely heavy contamination such as oil based substances and agricultural waste. The output material can be applied for granulation, blow molding and blowing?injection. The whole production line is easy to operate, efficient and low energy consumption.
Application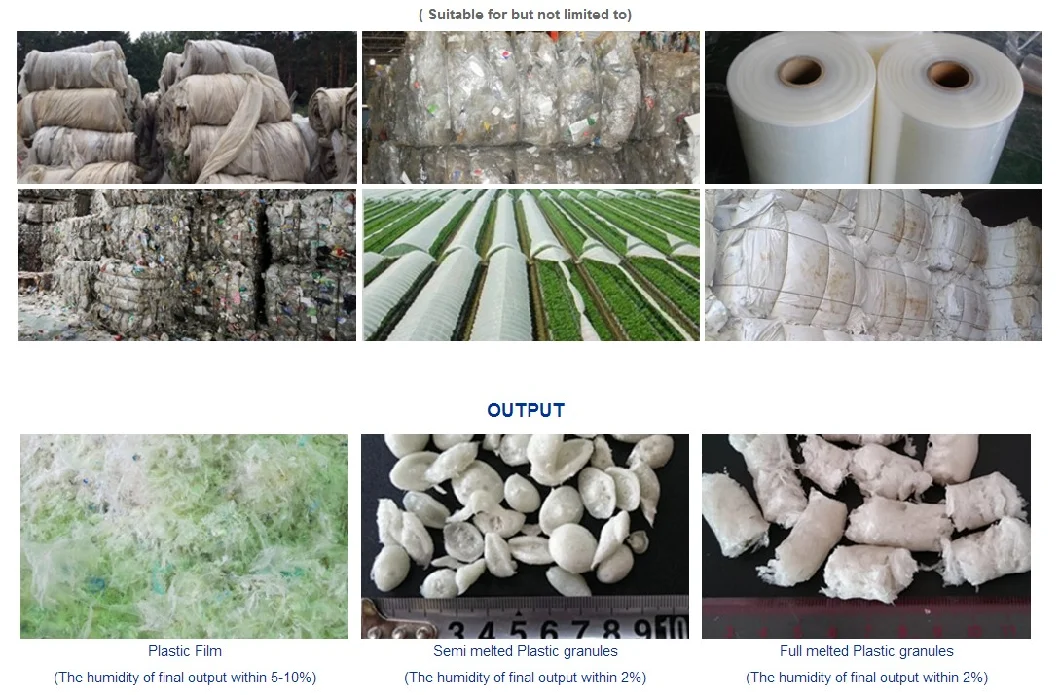 Processing flow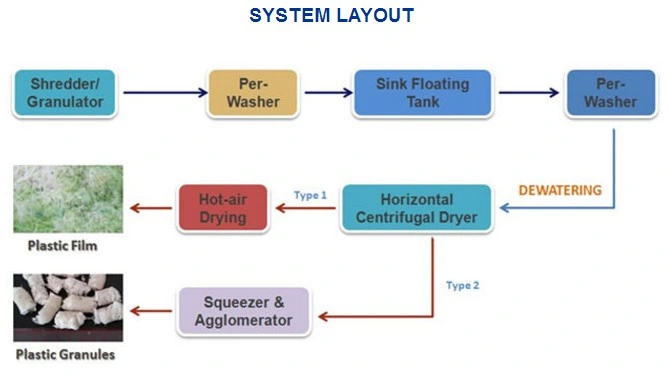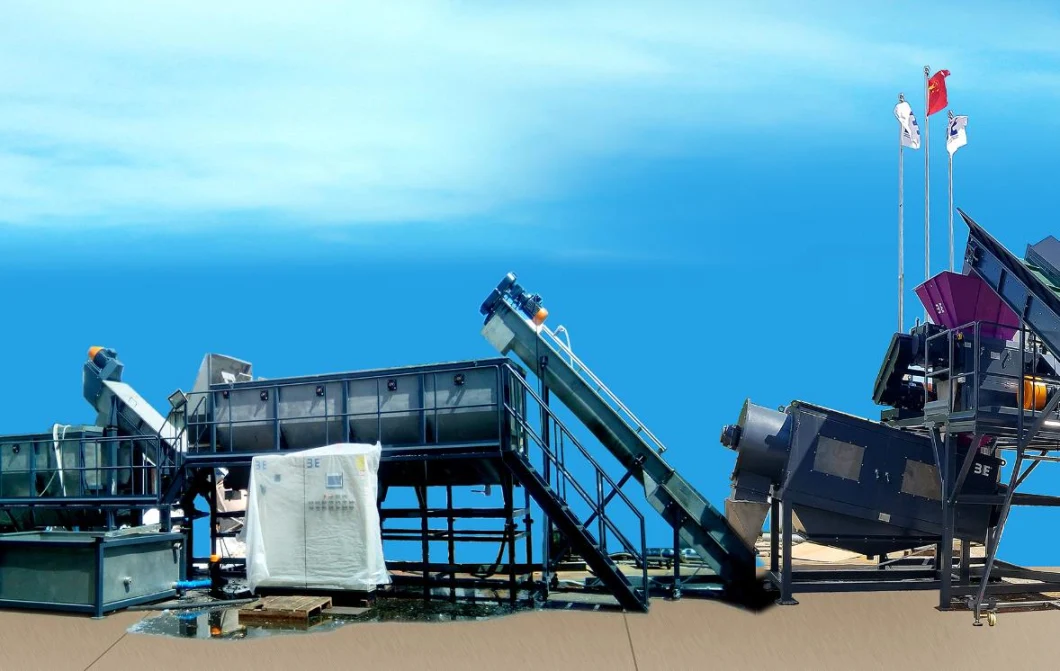 Main equipments
Size reduction

Double shaft film shredder




It's especially suitable for recycling the medium hardness and soft material, for example film, woveect. Aimingn bag, jumbo bag,

paper and at different material, it could use different shaft.


Plastic Granulator


The PC series Granulators are heavy duty, high speed precision granulation machines designed for the rapid size reduction of various types of material in a single pass. The material is cut cleanly between the rotor and stator knives, and cut down to a homogenous regrind size determined by the screen holes on the fitted screen.

Prewashing

Pre-washer


This machine is mainly for cleaning PE/PP/PET plastic film and flakes that after crushing, to clean the dirty that mixed in the film. The exterior shell make by stainless steel, excellent in corrosion resistance, and the impeller by wear resistant material with dependable performance. Water injection device is awarded patent.


Film Prewashing Machine


Special feeding and washing blade design for big size film prewashing, the screen can remove most of dirty and sand. It can protect the knives of the crusher to running longer time and more efficient. The waste film through the prewashing machine can decrease 80% dirty. The machine can be wet and dry washing.


Trommel


Trommel is adopts for pre-treatment process to get rid of impurity including sand, metal and etc. It can reduce the abrasive wear of the following machine.

Washing

Sink floating tank


Wash and separate the materials that heavier than water.

Dewatering

Horizontal Centrifugal Dryer


This machine is mainly used to dewatering the cleaning plastic film, centrifugal forces from high speed rotation for master shaft which throw plastic film and water against the screen, and water is drained from the screen. This machine is good effective on drying and high efficiency.

Squeezing
&
Aggregating

Squeezer


Squeezer is used for PE/PP plastic film or woven bag that after crushing and cleaning mechanical dewatering, adopting large torque spiral that can extrude the loose material, and make the water throw out from the screen. The discharge port is hydraulic controlled , it can avoid plugging material. This machine is less energy consumption and good drying performance, moisture content of the output material can be controlled between 5-10%.


Agglomerator


Because of friction, the recycled material will get hot and soft, the surface will melt and the shape will be strip like worm, then will be sucked in the granulator to be cut as granulate whose size as you required.It could use the aggregator to recycle film, PE, PS, PET etc. together with composite material which is dry. High capacity, full automation, continuous operation, less operation staff, the humidity of output material could be within 2%.


Squeezer & Agglomerator


Squeezing agglomerator will take process for the film or woven bags which are washed and clean by squeezing and drying. Comparing with previous type squeezer, current squeezing agglomerator with the unique principle about squeezing solve the difficultes about dewatering for the film or filiform plastic, what's more it could control the output humidity could be within 5%, and it is Less energy consumption and high degree of automation.
Equipment characteristic
Capacity

300-2000 kg/h

Application

Suit for recycling PP/PE/PA waste film, Post consumer film, Food contaminated film, Garbage film, Agricultural film, Mulching film, Greenhouse film, PP woven bags etc.

Specification

The production line is mainly composed of Plastic Film Shredder/ Plastic Film Granulator, Friction Washer, Sink Floating Tank, Horizontal Centrifugal Dryer, Squeezer or Squeezer & Agglomerator. The whole production line is easy to operate, efficient and low energy consumption.

Output Type
Material will be processed by crushing, washing, dewatering, drying. The humidity of final output could be within 5-10%.
Material will be processed by crushing, washing, dewatering, squeezing & aggregating. The humidity of final output could be within 2%.
After-sales Service

3E have a experienced installation team to provide professional installation guidance and training support.
Certification
3E MACHINERY

was awarded 18utility model patents and 3 invention patents.
1.Pre-sale support


3E Machinery consists of experienced specialists, we will offer a suitable solution according client's requirement in time.
On-site inspection.


2. After-sale service


3E's skilled technicians are available to assist with onsite installation, commissioning & training on request. This will enable customers to optimize the performance of their new plant. Customers will be briefed on all aspects relating to operation and maintenance by a 3E technician. Dimensional drawings together with service requirements will be provided prior to delivery of the equipment. This will allow the customer to prepare the site and allow them to commence production in a timely fashion.
3E holds a adequately inventory of spare parts and their efficient service personnel will ensure that any required part will be dispatched without delay. Delivery of the spare parts may be by air, sea or courier depending on the urgency of the situation. Customers are encouraged to hold their own critical spare parts such as granulator blades and screens to ensure optimal machine condition and performance.


3. Technical support


3E provides enough hardware resource especially for large-scale production lines, clients can carry out installation, commissioning and acceptance before delivery.
Regular return visit.




Advanced production and testing equipments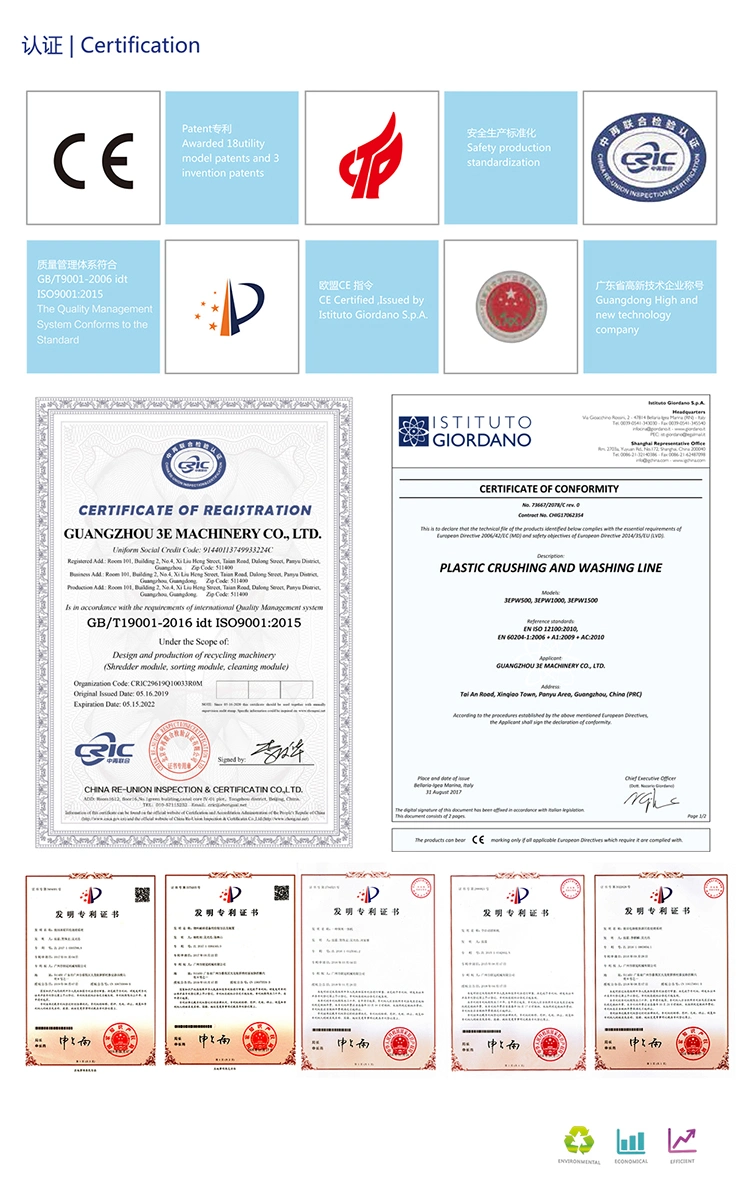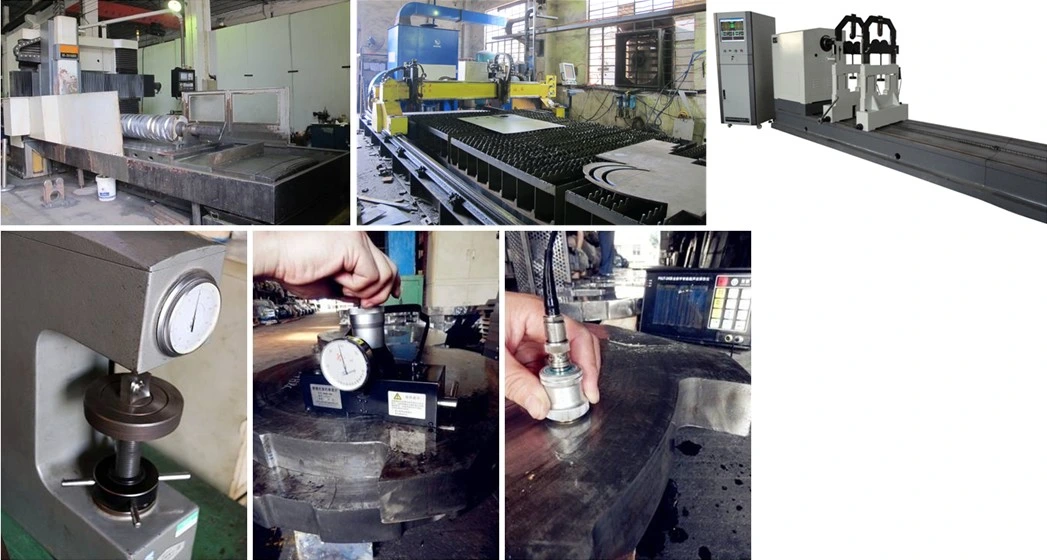 3E MACHINERY

equipped with advanced processing and testing equipments, in order to ensure the quality of the products. And strictly control the quality of each parts, efforts to provide the best quality products to our clients.
Company profile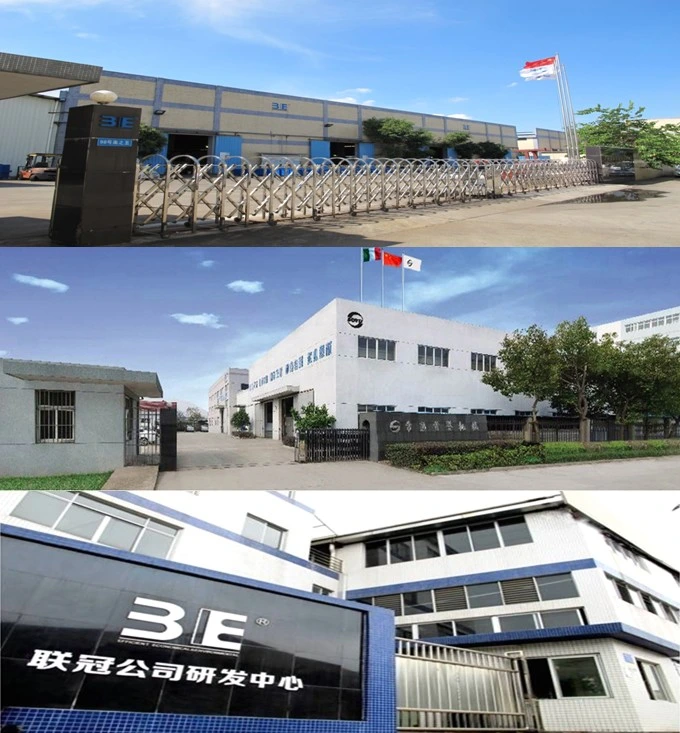 3E GROUP is an integrated company specialized in developing, manufacturing, distributing and providing recycling machinery solutions. Our main entity " Guangzhou 3E Machinery CO. Ltd" founded in 2003, has currently become focusing on "Shredding" and "Recycling industry" modern enterprise.
Technology is the core-competitiveness of 3E Group, we are active in the recycling market and keep cooperating with well-known enterprises in Europe and the USA. Meanwhile, 3E Group keeps on improving and innovating, so far, we awarded 18utility model patents and 3 invention patents.
"Efficient Economical & Environmental" is the traditional idea of 3E Group. With its own intellectual property and solid technological team, our products have been already sold to over 90 regions and countries which include the USA, Europe, Australia, Southeast Asia, Latin America, and Middle East.