This Line is used to recycle and wash the PET flakes, it including the bale breaking-bottle prewashing-presorting-label separation- bottle manual sorting-wet crushing-flotative separation&friction washing -rinsing&drying-Mixing&dust removal-packing.
It can wash and crush the waster bottle into clean flakes, the end materials can be used to replace the raw materials to produce the polyester staple fiber.
If you are interested, please contract us any time!
Product Description
1500 kg/h PET Bottle Recycling Line
Model No. TL-1500
Description:
The Process is used to recycle big capacity and stable quality raw material, especially for PSF manufacturer and recycled POY manufacturer with big capacity.
The Process Flowchart:
De-baling----- Bottle Pre-washing------- Manual Sorting------ Label Scrapping------ Label Separation-------- Manual Sorting and Metal Detecting-----Wet Grinding-------Gravity Separation-------Chemical Washing for PET Flakes-------Rinsing--------Drying--------Packing
Specification:
Power: ~250 KW
Capacity: 6000 Mt/hour Input
Area Requirement: 700m2
Composition of PET Bottle Bale:
Description

Characteristic

PET Containers

One-way bottles

Colors Fraction

PET bottles should be pre-sorted by color. If the percentage of color bottles is higher than 30%, we suggest customer to install the automatic color bottle sorting machine to achieve efficiency.

Base Cups

Included, if any, and should be PP or PE plastic.

Labels
(shrunk or glued)

The production line is designed for removing label mechanically. All type of labels will be removed by mechanical action. It includes paper, BOPP, PET, PVC, etc.

Caps

PP, HDPE

Caps seals

EVA, PP ( floatable material )
PVC or rubber seals are not separable.

Glue

Hot melt, water borne.

Contamination

Mixed with the bottles could be present contaminations coming from the collection and storage of the postconsumer bottles or made by consumer. These contaminations include mud, sand, soil, glass, organics, paper, residual liquid, etc.
Total contamination content should not exceed 10%.
Total Non-PET
Containers

Non-PET containers max 2% of which

PVC Container

0.5 -1% max

Polyolefins Container

3 % max. It will only affect the output volume but not quality of end product.

Wrong PET Colors
and Opaque

1-2% max

Glass and Ceramic (metals excluded)

0.5 -1% max

Magnetic Metals

0.5 - 1% max

Aluminum and Non Magnetic Metals

0.5 - 1% max
All kind of metal will be separated before crushing
Quality Criteria of Final Product:
Description

Characteristic

Intrinsic Viscosity

0.71 ~ 0.78 dl/g depend on bottles I. V.

Bulk density (min. /avg. /max. )

400/500/600 kg/m 3

Flake Size
- Fraction ≤ 1 mm
- Fraction ≥ 12 mm
1 ~ 12 mm
< 1 %
< 5 %

Humidity

≤ 1.5 %

PE, PP

≤ 20 ppm

Paper

≤ 20 ppm

Glues/Hot melts

≤ 20 ppm

Organics

≤ 20 ppm

Metals

≤ 20 ppm

In-organics

≤ 20 ppm

PVC

≤ 25 ppm

Total impurity

≤ 100 ppm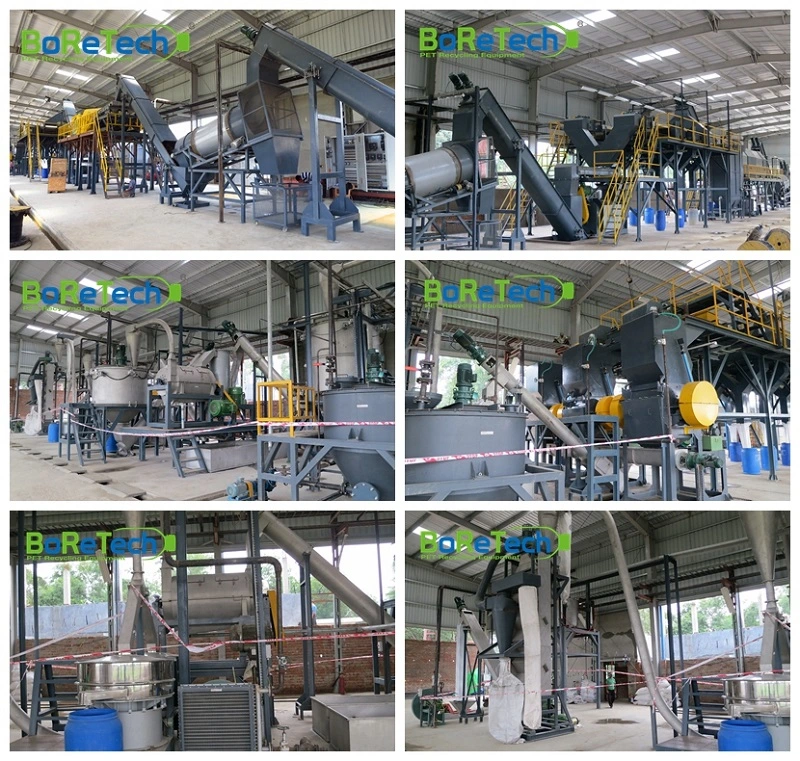 1,pre-sale support:
Normally we suggest you paint our standard color , but we can supply customization paint service by paid.
2,after-sale service:
Warranty:1 year for machinery,6 months for electrical.
For mechanical parts, our guarantee duration is 12 months. If the part is broken within this period, we will send the spare parts immediately to the client for repairing.
3,technical support:
Normally, we send our engineer(s) to supervise the installation and commissioning. The buyer need to prepare the operation staff to implement it. BORETECH is able to send mechanical engineer, electrical engineer and operation engineer. The operation engineer is to help the buyer's labors to know how to operate the washing line and get the best efficiency.

Boretech is one of the major supplier of PET bottle recycling system in Asia . We uses the around 30 years of fiber making and bottle recycling experiences to manufacture PET Bottle recycling machine and configure Pelletizing line, Polyester Staple Fiber line, POY line and Bottle to Bottle Line. At present, we have supplied about 170 sets plant for more than 30 countries.Our customers in the US, Japan, EU manufacture food grade rPET resin for such well-known brand owner's such as Coca Cola, Niagara Bottling, Nestle, etc.
Boretech can help our customers to make right configuration of the machinery, and find the right position in the industries. The most important value is that we can help our customers to minimize the learning cost and to avoid making any mistake during investment.